Purdue Memorial Union Ground Floor Renovation
---
In 1922, the first shovelful of earth was moved for the construction of the Purdue Memorial Union.
One hundred years later, the PMU Ground Floor has reopened as the Atlas Family Marketplace showcasing the most transformative, groundbreaking renovation in its history.
RENOVATION HIGHLIGHTS
The Purdue Memorial Union (PMU) Ground Floor Renovation Project greatly improved the retail dining space and social experience within the PMU. The last time the PMU Ground Floor dining area received a renovation was in 2008 and was cosmetic in nature. The 67,000-square foot ground floor has been renovated with a return to more historical context and imagery with added modern amenities.
Purdue Memorial Union has a great historical significance to Purdue University with its original construction completed in 1922. Subsequent to this date, there were additions to PMU in 1929, 1935, 1938, 1939, 1953, and 1986. During the demolition phase of the project, original exterior walls from 1922 were uncovered and are now visible to all. The original architectural firm, Pond and Pond, also designed the University of Michigan's Union, which opened in 1919. The new design details with this new construction preserve the history of the building as well as provide a fresh, modern look and experience. An additional design feature of two outdoor terraces and the emphasis of two light wells at the new fireplace lounge, previously part of a back-of-house corridor drywall, provide even more natural light. The existing plaster arches and wooden windows, original to the 1922 construction, are preserved and accentuated with the new design.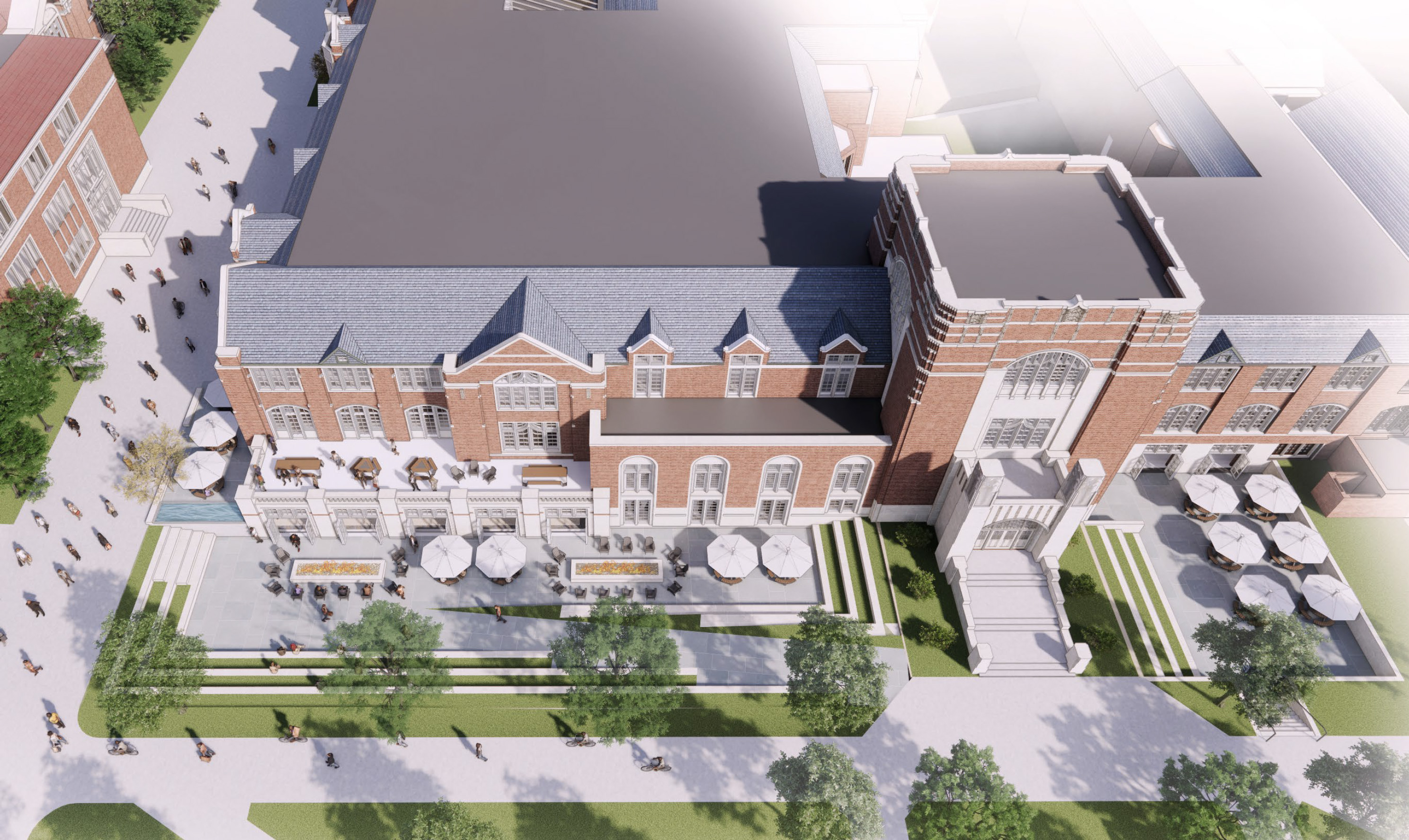 More space for seating, dining venues and circulation has been created by converting the old, existing kitchen. The previous configuration of the PMU Ground Floor dining area had approximately 700 seats and nine dining choices, plus the 1869 Tap Room. The new renovation provides 900 interior seats and 11 dining venues – one of which is a sports bar co-owned by Purdue alumnus Drew Brees. An improved convenience store is located in closer proximity to the Union Club Hotel. The new construction also provided for 144 new exterior seats at the terraces, both of which have a fire pit.
Quick Facts
PMU Ground Floor has reopened as the Atlas Family Marketplace
Eleven new dining venues.
Improved convenience store.
Four performance stages – three inside, one outside. 
Added fireplace lounge with exterior light wells. 
Outdoor seating terraces with fire pits. 
Overall seating capacity of 1,044 (900 indoors, 144 outdoors). 
Multiple collaboration areas with increased technology. 
New, functional and diverse furniture options. 
Enhanced wayfinding and environmental graphic storytelling.
Greater accessibility and circulation.
Gender neutral restrooms and lactation room.